Back to Lure Mold Index | Back to Catalogue Main Index
MUSKIE SPINNERBAIT MOLD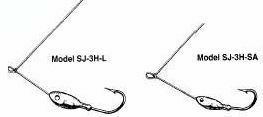 Sample Finished Muskie Spinnerbait
MUSKIE SPINNERBAIT MOLD The Muskie Spinnerbait has a long and narrow head resembling a bait fish with a swollen belly. Each head features large recessed eye sockets to accept 1/4" 3-D soft molded stick-on eyes or prism tape stick-on lure eyes. Use our exclusive 0.062" extra large wire form with a ready made coil loop to minimize wire fatigue on the upper arm when trolling at high speeds.
*Designed for ladle pouring — not intended for use with bottom pour lead furnaces.
Item Code
Model No.
Spinnerbait Form
Hook Style
3D Eye
No. of Cavities
Sizes (oz.)
Hook Sizes
Price
No Longer Available!
Related Items