Back to Wires Index | Back to Catalogue Main Index
MUSKY/PIKE SPINNERBAIT FORMS
LureMaking.com's Musky and Pike spinnerbait forms are precisely formed from the highest quality tempered stainless steel. They are guaranteed to be the largest and strongest spinnerbait forms available. Most standard spinnerbait molds will have to be modified to fit these larger forms. But you and your fellow musky anglers will surely be impressed with the results.
We have a new Musky Sized
Spinnerbait Wire form
coming late March 2017.
Item Code
Spinnerbait Size
Wire Diameter
Eye
Style
50
100
500
76-00-62
1oz and larger
0.062"
Coil Eye
Discontinued
76-00-70
1oz and larger
0.062"
Twisted Eye
$13.99
$22.99
$99.90
76-00-75
1oz and larger
0.062"
Large Coil Eye
Sold Out
Sold Out
Sold Out
WIRE SPECS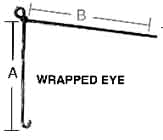 | | | | | |
| --- | --- | --- | --- | --- |
| Item Code | Spinnerbait Size | Wire Diameter | Upper Arm (B) | Lower Arm (A) |
| 76-00-62 | 1 oz and larger | 0.062" | 5-1/2" | 3-3/4" |
| 76-00-70 | 1 oz and larger | 0.062" | 4-3/4" | 4" |
| 76-00-75 | 1 oz and larger | 0.062" | 4-7/8" | 4-1/8" |
RELATED ITEMS