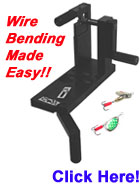 Molding Safety Precautions
CAUTION: SAFETY FIRST
Always wear eye protection to protect against lead spatters.

Wear gloves and a long sleeve shirt to protect your hands and arms from burns and lead spatters.

Never let water or moisture come in contact with molten lead. Moisture will evaporate rapidly when contacting molten metal, causing it to pop and spatter violently.

Use care when handling hot tools and castings.

Work in a well-ventilated area. Lead can vaporize at elevated temperatures. Exhaust fumes to the outside.

Always wash your hands after handling lead so that lead is not transferred to food or tobacco products that could be ingested.

Do NOT allow small children in your work area or permit them to handle your lead products.

Keep your work area clean.
OTHER LEAD LINKS