Back to Lure Paints Index | Back to Catalogue Main Index
VINYL LURE AND JIG FINISH - Discontinued Item!
SPECIAL SHIPPING NOTICE: Vinyl paints may only be shipped ground within Canada. If your order contains any Vinyl paints it will automatically be shipped ground within Canada. We can not export Vinyl paints to the USA or destinations outside Canada.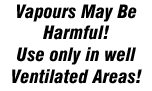 Vinyl Lure and Jig Finish can be dipped, brushed or sprayed. The vinyl qualities of this finish make it chip resistant. Good adhesion to raw lead. Drying time between coats is about 10 minutes. Will not be softened by most soft plastics. White must be used as an undercoat for all fluorescent colours. Two coats of white are needed for a better job. You must apply a coat of clear coat to your lure for a gloss finish. May be thinned using our special thinner. Recommended for use on raw lead and other metals only.

Please note our long time supplier of vinyl paint has stopped selling vinyl paint.
We highly recommend using paint markers or heat and dip powder paint.
| | | | |
| --- | --- | --- | --- |
| Item Code | Colour | Size | Price per Bottle |
| 79-01-26 | - | 1 oz. | - |