Back to Split Ring Index | Back to Catalogue Main Index
STEALTH BLACK STAINLESS STEEL SPLIT RINGS - Sold Out!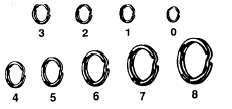 Split Rings Not Shown Actual Size
Our American made "Stealth Black" black nickel plated premium stainless steel split rings will never rust. Replace old rusty split rings with our premium high quality stainless steel split rings, used by the experts. These split rings are excellent when minimal flash is wanted. Remember to use a pair of split ring pliers for easier attachment.
Our long time split ring supplier has closed the business. We are limited to existing stock. We apologize for the inconvenience this may cause some customers.
STEALTH BLACK STAINLESS STEEL SPLIT RINGS
RELATED ITEMS