Back to Bead Index | Back to Catalogue Main Index
Mother of PEARL & Silver / Gold Plated Beads
These are the finest simulated pearls we have used. Available in four finishes: Mother of Pearl, Clear Pearlescent, Silver and Gold plate. Use on harnesses, spinners, flies, spinnerbaits and all your other lures. All beads are packaged one colour per bag in quantities of 100, 500 or 1000.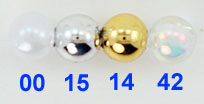 Mother of Pearl and Gold / Silver Plated Beads
Please specify colour code, the two digit code in brackets, when ordering by phone, email or mail.
(00) Clear Pearlescent (size 5 and 8 only)
(14) Gold Plated (Sold Out - No ETA)
(15) Silver Plated (size 3, 5 & 6 only)
(42) Mother of Pearl (size 5 and 6 only)



Not Shown Actual Size
Single Colour Packs
Item Code

Size
Available Colours
Approx.
Hole Dia.
Approx. Diameter
100
500
1000
36-03 *
3
14, 15
0.040"
3mm
3/32"
$0.69
$2.99
$4.69
36-04
4
14, 15, 42
0.052"
4mm
5/32"
$0.99
$3.99
$4.99
36-05
5
00, 14, 42
0.053"
5mm
3/16"
$1.49
$5.49
$9.99
36-06
6
15, 42
0.063"
6mm
1/4"
$1.69
$6.99
$12.99
Assortment Packs of Mother of Pearl and Gold / Silver Plated Beads
Item Code

Size
Colour
Approx.
Hole Dia.
Approx. Diameter
500
36-03-99
3
Assorted
0.040"
3mm
3/32"
$2.99
36-04-99
4
Assorted
0.052"
4mm
5/32"
$3.99
36-05-99
5
Assorted
0.053"
5mm
3/16"
$5.49