Back to Lure Paints Index | Back to Catalogue Main Index

ALUMINUM FOIL MASKING TAPE "Peel and Stick"

Aluminum Foil Tape has many LURE MAKING uses! It is extremely thin and soft and can be stretched a little which makes it easy to apply over both plastic and wooden lure bodies when a silver plated effect is required. The foil tape is also much thinner than our regular bulk prism tapes.

USE 1: Our Aluminum Foil Masking Tape is an absolute necessity if you want to mask areas of your spoons / blades prior to powder painting them. Simply cut to size and apply to area to be masked. Heat your lure and apply paint as usual. Then simply remove aluminum masking tape before oven curing. Then cure as recommended.

Great for powder painting one half of your spoons while leaving the other half (masked portion) the original unpainted finish.

USE 2: Many anglers also use our aluminum foil tape to cover their wooden or plastic lure bodies to give the effect of a metallic silver finish before painting and clear coating. Aluminum foil tape is also good for tracing gill patterns and applying scale patterns to your lures. When applying scale patterns always apply patterns before applying foil to lure. Use a ruler and blunt knife to score the aluminum foil. In no time at all your will be making lures similar many Japanese lures. Apply patterns using a sharp but blunt cutter like the reverse side of an exacto knife blade so as not to cut through the aluminum foil tape.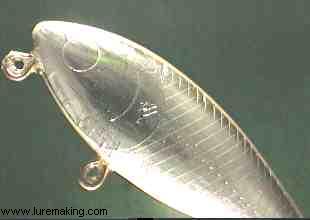 When applying Aluminum foil tape tape over body baits use a piece of basswood or other soft wood or plastic to remove any wrinkles in the foil. Gently rub the basswood piece from the centre of the lure to the outer edges. This will remove any air pockets and ensure a nice smooth wrinkle free finish. Always apply a coat or two of clear coat (dip or spray) over the aluminum foil tape before painting.
In the photo shown here a second piece of aluminum foil was used to create the gill plate and eye.
Each sheet is 2" x 6" and is packaged 2 sheets per package.
| | |
| --- | --- |
| Item Code | Price per 2 Sheets (2" x 6") |
| 72-50-00 | N/A |
| | |
| --- | --- |
| Item Code | Price per Roll (2" x 25ft) |
| 72-50-01 | N/A |