Back to Eagle Claw Hooks Index | Back to Hooks Index Index | Back to Catalogue Main Index
EAGLE CLAW L145 KAHLE HOOK NICKEL - Closeout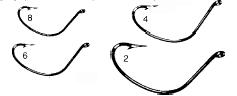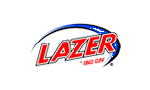 Hooks Not Shown Actual Size
A very popular Eagle Claw Laser Sharp L145 Nickel hook. Features include: nickel Laser Sharp, Kahle wide gap, plain shank, down eye, and offset. This hook is Nickel! This is an excellent hook for for large Sturgeon, Catfish, Northern Pike and Muskie.
EAGLE CLAW L145 HOOK
Item
Code
Hook
Size
Package
of 25
Package
of 100
59-45-50
5/0
$4.29
$13.96 $7.96
This item will not be re-stocked once sold out.