Back to Eagle Claw Hooks Index | Back to Hooks Index Index | Back to Catalogue Main Index
EAGLE CLAW L194 - "Stealth Black"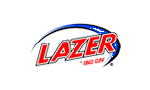 Hooks Not Shown Actual Size
Laser Sharp X strong-short shank hook is super strong and super sharp. This is an ideal hook for walleye harnesses and for drift fishing for steelhead. This hook is Stealth Black Nickel! Offset!
EAGLE CLAW L194 WALLEYE AND STEELHEAD HOOKS
Item Code
Hook Size
Package of 25
Package of 100
Package of 1000
59-94-06
6
Discontinued use L1 #6
59-94-04
4
Discontinued use L1 #4
59-94-02
2
Discontinued use L1 #2
59-94-01
1
Discontinued use L1 #1
The L183/L194 hooks has been discontinued by Eagle Claw and has been replaced with the L1 Black Needle Point.
Orders placed for L183/ L194 Black hooks will now receive the L1 Octopus.