Back to Swivels Index | Back to Catalogue Main Index
DROP SHOT SWIVELS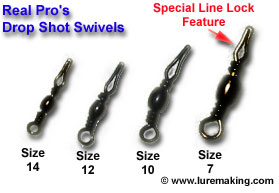 Not Shown Actual Size
Real Pro's all new Drop Shot Swivels have many uses. This all new swivel has a regular barrel swivel design on one end and a special line lock design on the opposite end. Because of the special line lock design you can lock the swivel in place on your line without concern for line damage. Excellent for ice fishing, jigging and drop shotting.
Make Your Own Drop Shot Weights
Now you can make your own drop shot weights and save up to 90% of the cost over buying over priced name brand ones. Drop Shotting has taking the fishing world by storm and is the hottest technique in the professional anglers circuit, drop shotting is a light-line, finesse presentation that keeps your bait in place for extended lengths of time. Great for fishing under or in structure. To make your own Drop Shot weights use Real Pro's drop shot molds.
The size 7 Drop Shot Swivel will fit any of our sinker molds that use a size 7 barrel swivel with a little modification or use Real Pro's drop shot molds.
Drop Shot Weight Swivels
Available in Black only.
Item
Code
Size
Overall
Length
Approx.
lb. Test
Package
of 50
Package
of 100
41-60-07
7
7/8"
65
N/A
N/A

This product has been discontinued!
The replacement item for this item is the Line Grip Swivel.
RELATED ITEMS